I am thrilled to announce that my new friend, Andrea DeHart (aka
Crafty Bitch
), will be working her magic on the dresses in my inventory that require a little TLC.
I immediately took a shine to Andrea when I met her a few weeks ago on the bus: she is clever, easygoing and unbelievably creative. Imagine my utter elation when I learned that she is an experienced seamstress and self-professed "craftaholic."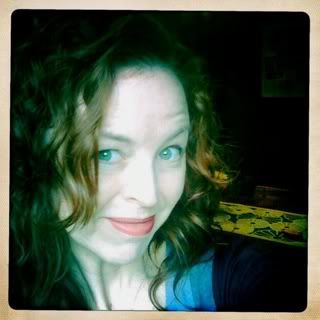 I often spot dresses that have immense potential (just like the bus!), and I can't resist saving them from certain doom. Finally these once-beautiful gems can realize their new incarnations as repaired dresses, skirts, blouses, scarves and whatever else Andrea dreams up!
Andrea is a recent transplant from San Francisco. She claims that she loves Portland so far, but I encourage you all to
stop by the bus this Friday
and assure her that there's more to Portland than freezing rain and cloudy skies.
If you do nothing else this evening, you absolutely must check out
Andrea's blog
and witness some of her wonderful projects - most notably the
Evel Knievel costume
she made for her son for Halloween.